How to Get a Divorce Attorney With No Money
If you don't have the money to hire a divorce attorney, don't despair. There are several alternatives, including requesting that your spouse foots the bill or taking out a loan. You can also opt for mediation instead of hiring a lawyer. But you have to be sure you have the financial means to do this. Read on for some tips. Listed below are some ways to pay for a divorce attorney. 
(Looking for Domestic Violence Penalties? Contact us today!)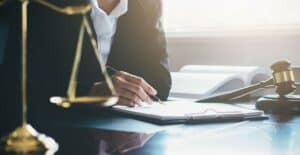 Alternatives to hiring a divorce lawyer
One of the first options you have if you can't afford a divorce attorney is to find one who is willing to volunteer their services. There are many volunteer lawyers and legal aid societies who can represent people in need at no cost. You can also try to contact your local bar association for a referral to a good divorce attorney. Listed below are some of the ways you can get a free consultation from an experienced divorce attorney. 
The first thing to keep in mind is that divorce proceedings can be expensive, especially if you are filing a contested dissolution. It is best to evaluate your finances before filing for divorce and consider whether hiring an attorney will make the process any easier or more complicated. If you expect significant assets to be divided between you and your spouse, you may want to get a new credit card to pay for the divorce. 
Requesting your spouse to pay for your legal fees
Having a divorce can be both emotionally and financially draining. While most divorce courts will require each party to pay their own attorney's fees, in some rare cases, the court may order the nonpaying spouse to pay for the attorney's fees. If you request your ex-spouse to pay for your divorce attorney's fees, make sure to ask the court to grant this request. 
Generally, the court will award attorney's fees in lump sums or installments. The court will consider the reasonableness of the fee charged and the amount of work completed and may frown upon an attorney who requests work that was not necessary to settle the case. The best way to obtain a reasonable fee award is to negotiate a lump sum payment with your spouse before filing for divorce. 
Taking out a loan to pay for a divorce lawyer
While credit cards have higher interest rates than a personal loan, they may be your only alternative to paying for a divorce lawyer. And they can be approved faster than a loan. But even if you qualify for a credit card with a good interest rate, you'll still have to pay interest on it each month. That will add up to the total cost of your divorce. Personal loans are best used for small fees under $1,000 because most personal loans do not go that low. If you are considering taking out a loan to pay for a divorce lawyer, you can also ask friends and family for help. 
Taking out a loan to pay for your divorce attorney is a bad idea. While your loan interest rate is generally lower than a standard credit card, you could end up paying several thousand dollars in interest, which could make your divorce even more expensive. In addition, your debts may end up being paid before the divorce is finalized, making it impossible to save enough money for retirement. Therefore, if you're unsure about taking out a loan to pay for your divorce attorney, you should seek financial advice from a financial expert. 
Mediation as an alternative to hiring a lawyer
Some individuals may prefer to use mediation as an alternative to hiring a divorce attorney. The advantages of mediation include having more control over the divorce process and allowing the divorcing couple to come up with creative solutions on their own. One such example is trading education payments for reduced alimony in the future. But some people may not be comfortable working out the terms of alimony without the assistance of a divorce attorney. The downsides of mediation are that if negotiations fail, the divorce can take longer than necessary. If the spouses have a history of abuse, mediation can only prolong the proceedings. 
Another major benefit of mediation is its cost-effectiveness. While divorce attorneys may charge an exorbitant fee, mediation is often cheaper than hiring an attorney. However, it is important to remember that a divorce attorney's fees can be expensive, and a good mediator will help minimize the cost. A divorce attorney's fees can also be emotionally and financially draining. By comparison, divorce mediation generally costs significantly less than litigation.