Where to Get Prenuptial Agreement?
If you're a new couple and are wondering where to get a prenuptial agreement, there are a few options. There are lawyers, prenuptial agreement websites, and even online agreements. However, if you want a legally binding agreement, you need to find the right one for you. 
(Looking for a family marital separation lawyer? Contact us today!)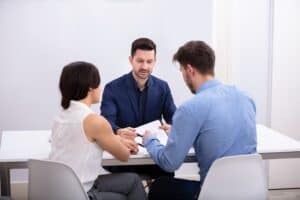 Prenuptial agreements are legal documents that will govern your relationship with your spouse. They are enforceable by the courts and are the best way to protect your assets in case of a divorce. These documents also define the terms and limits of support and are designed to meet the specific needs of each person involved. 
Prenuptial agreements can cover a range of topics, from how to divide up property to who will pay what. It can also include things like how to handle shared finances, whether each person is maintaining separate bank accounts, and whether each partner is working. This is critical information that must be disclosed accurately or the prenuptial agreement may be ruled invalid in court. 
Lawyers
Lawyers for prenuptial agreements are important if you want your agreement to be legally binding. It is important to note that prenuptial agreements cannot include provisions that limit the earning potential of one spouse or require one party to pay for another's debts. If your agreement has any of these provisions, it is likely to be void. Additionally, prenuptial agreements should not include promises about the future or child custody. 
Having lawyers review your prenuptial agreement can make the process much more efficient. The drafting process can be as short as a few days, and the final signing process can take much longer. Lawyers are also experienced in negotiating prenup agreements and can help you ensure that the terms are clear and meet your needs. 
Online agreements
Online prenuptial agreements are becoming more popular in today's society. These prenuptial agreements are more convenient and less expensive than traditional agreements. Online services also offer the option of a real attorney reviewing and revising the document, so you can ask any questions you may have. You can also receive follow-up questions from the online attorney to make sure everything is in order. 
Julia Rogers, the CEO and co-founder of Hello Prenup, has created an online tool that makes preparing prenuptial agreements easy and convenient for couples. Couples can input information about income, assets, and property to create a personalized document. The software checks for inconsistencies and sends a signed version to each partner. The cost is $599. Alternatively, couples can have their own attorney review the document, for a small fee. 
Attorneys in your area
If you're considering getting married, there are several options for drafting a prenuptial agreement. First, you should seek legal advice from an attorney who is experienced in prenuptial agreements. These professionals can guide you through the process of drafting a prenuptial agreement and can help you avoid pitfalls. 
A prenuptial agreement outlines your goals before the wedding, as well as your premarital assets and debts. It also outlines the financial obligations of each party during the marriage. These documents are especially important if you have children from previous relationships or substantial assets. 
Legal requirements for a prenuptial agreement
Before a couple can enter into a prenuptial agreement, it is important to make sure the document is legally sound. It must be signed by both parties and a notary public should be present. This can help prevent the agreement from being thrown out if there is a claim of duress. The document must also be signed in a recordable format. 
The main purpose of a prenuptial agreement is to protect the assets of both parties. This way, if the marriage should end in divorce, the spouses will not be forced to split their assets. Additionally, it can protect funds set aside for educational or retirement.