What Happens When Your Divorce Attorney Quits?
A divorce attorney is not allowed to quit a case without first obtaining the approval of the court. However, in some situations, it may be appropriate for an attorney to withdraw from a case if there is an ethical issue involved or the lawyer believes that their client's interests are in jeopardy. 
(Looking for a "Montana child custody lawyer nearby"? Contact us Today!)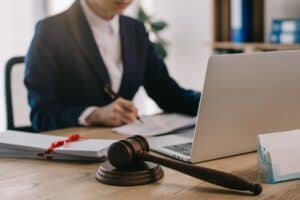 Often, the reason why a divorce attorney wishes to withdraw from a case is based on an ethical concern or inability to work with a particular client. Some of these concerns include the client refusing to disclose relevant information, not intending to abide by a judge's decision, or otherwise showing an inability to be trusted. 
Another reason why a divorce attorney may want to withdraw from a case is that they feel they are being financially exploited. This is a common problem in many cases and is one of the most commonly cited reasons that divorce attorneys quit. 
When a divorce attorney withdraws from a case they have to send notice to both their client and the opposing parties of their intention to withdraw. This is usually done through a motion that the attorney files. This allows both sides time to find new representation and for the lawyer to familiarize themselves with the case before a trial. 
It is a good idea to hire a divorce lawyer that specializes in family law. This can help you to ensure that your case will be handled correctly and expeditiously. 
A good family law attorney will know the ins and outs of divorce law, including how to deal with complex financial issues. They will also have the experience and expertise to navigate complicated child custody issues. 
If you have children, it is a good idea to hire an attorney that is a member of the American Academy of Matrimonial Lawyers (AAMLA). This can help you to ensure that your children are represented fairly in your divorce. 
The American Bar Association (ABA) also recommends that you search for a lawyer who focuses on family law. A good family law attorney can ensure that your divorce goes smoothly, even if you have to go to trial. 
Before deciding to hire a divorce attorney, you should meet with several candidates. This is a great opportunity to evaluate their skill set, experience, and personality. It is also a chance to ask questions about their strategy and how they will keep you informed. 
You should also be sure to get a fully completed case information statement from your attorney, which identifies your assets and income. This document is critical to a successful divorce and is used by the court and your lawyer throughout the process. 
If you do not have a complete case information statement, it can be difficult for your divorce attorney to make a determination on how much of your property to divide. This can lead to a lower-than-expected settlement and can make the end of your marriage more expensive.