What If I Can't Afford a Divorce Attorney?
You might be wondering: "What if I can't afford a divorce lawyer attorney?" Many divorced spouses can't afford a lawyer. They have been raising children, running the household, and working long hours, and can't afford the legal fees associated with divorce. Many also don't have enough money to take care of themselves and their kids while they are separated. 
(Looking for Legal Separation vs Divorce? Contact us today!)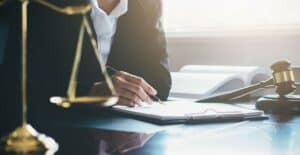 Alternatives to a divorce attorney
If you can't afford a divorce attorney, you may want to consider other options for getting advice on the process. You can find volunteer lawyers, legal aid associations, and other organizations that provide free divorce assistance. You can also turn to family members who have gone through a divorce to seek advice. To find out more about the different resources and options available, you can do an internet search and get recommendations from people who have gone through the same situation as you. 
Divorce attorneys can be expensive, especially if you're in a complex situation. Depending on the amount of property and the complexity of the case, it may not be possible to afford their services. However, some states have simplified divorce and dissolution procedures. These procedures often focus on property limits and children. If you and your ex-spouse cannot agree on the terms of your divorce, you may find it easier to negotiate with a mediator. 
Getting legal aid
Many legal aid organizations will provide free legal advice and assistance for individuals who cannot afford to hire a divorce attorney. These services can help you get started with the process of filing for divorce by providing step-by-step instructions and court forms. In extreme cases, the organization will even provide an attorney to represent you. To find a legal aid organization in your area, contact the county clerk or state bar association and ask for the contact information of a volunteer attorney. 
Another way to get legal aid is to contact your state or local bar's matrimonial or family law committee chair. The committee chair can help you obtain a fee waiver by advising you on what you need to do and working with your spouse to pay for their fees. 
Using a credit card
If you plan on paying for a divorce attorney with a credit card, there are a few things you should know. You should make sure your spouse is not the authorized user of the card. You can also disconnect the credit card if you are divorcing. Whether or not you should use a credit card to pay for separation is a personal decision. 
Another option is to apply for a personal loan. This is a great option because you can borrow a larger amount than your credit card allows, which is especially helpful if you expect your divorce to cost a lot of money. The advantage of a personal loan is that you can pay it off over several years, whereas a credit card will make you have to pay it off immediately. A personal loan also tends to have lower interest rates than a credit card. 
Getting legal aid for those who can't afford one
Hiring a divorce attorney can be an expensive endeavor. Even with a reasonable fee, a divorce can cost more than $25,000 in some cases. If you can't afford the fee, getting legal aid from your local legal aid office may be your best option. While most legal aid programs have limited resources, some may be able to provide you with an attorney to represent you for the entire process. 
There are many resources available to help you get a divorce attorney for free. For example, you can contact your local bar association to find an attorney in your area. You can also contact a legal aid society to ask for referrals for free attorneys. In some cases, the local bar association can set up a volunteer attorney for you.