What to Expect at a Consultation With a Family Law Attorney? Before visiting your divorce lawyer's office, there are a few things you should know. Before you make an appointment, be sure to gather documents that will help you in your divorce case. Documents like social media postings and notes about your relationship with your spouse may be helpful for your initial consultation. Remember, most divorce cases are "no-fault," meaning adultery or wrongdoing by one party will not affect the outcome of the divorce. When meeting with your divorce attorney, keep an open mind and be open to their expert advice.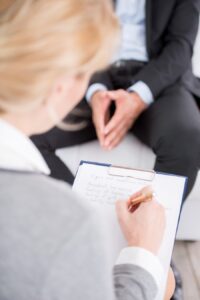 Documents to bring to the initial consultation with a divorce attorney
During the initial consultation with a divorce attorney, you should be prepared with all the necessary documents related to your case. For example, bring copies of your postnuptial or prenuptial agreement. You may also need to gather any employment records, tax returns, and health records. During this time, you will have any questions regarding the divorce process and may want to discuss your finances. Your lawyer can help you decide which route to take and answer your questions.
While the initial consultation is free, it is recommended to gather all relevant documents before or during the meeting. These documents help the attorney understand your story and give you the best advice. While the list of documents will vary depending on the situation, the important documents to bring to the initial consultation are listed below. During the initial consultation, you should be prepared to wait for about half an hour while your attorney examines your documents.
Expectations
There are a few basic expectations that you should have when you have an initial consultation with a divorce attorney. First of all, make sure to be comfortable discussing difficult topics with your lawyer. They will ask you questions about your specific situation, including your goals and objectives for the divorce, and they will keep your confidence. During this first meeting, you may even want to write down questions beforehand to ask the attorney. Here are some examples of questions to ask:
The first thing you should do is gather information about your finances. The attorney will review the types of divorce processes available to you. You should be aware of any financial issues, such as debts, assets, and any debts that you may have. Providing this information will help the attorney determine which one is best for you. Make sure to bring any financial documents that pertain to the case, including copies of tax returns and income statements.
Documents to bring
Taking note of all legal proceedings is critical during the divorce process. Document your income and expenses, including retirement statements and life insurance statements. If you are in a business, bring all tax returns and financial statements, including those of your spouse. These documents will help your attorney evaluate the state of your case and suggest strategies for a favorable outcome. Also, you can bring copies of any business contracts. While you might not need these documents, it is helpful to have them on hand.
If you have children, bring any relevant documents to your initial consultation with a divorce attorney. Prior agreements and orders in your divorce case may be helpful. You should also bring your most recent tax return. Your current health insurance premiums and tuition payments should also be brought along. For the spouses, bring your separation agreement if you have one. If you have children, bring any medical expenses related to them. Bringing these items to your initial consultation will help your attorney understand your situation better.
Bringing a loved one
Some people bring a family member or close friend to their initial consultation with a divorce attorney. Having someone with you during this important meeting can provide you with additional support and guidance. Having your loved one along can help you ask important questions, record important details, and provide support during the difficult time ahead. It's also a good idea to bring a copy of your divorce papers for the attorney, as he or she will likely need to refer to them later.
Bringing a loved one to the initial consultation with a divorce attorney is an excellent idea, but it is important to keep in mind that divorce proceedings are typically highly emotional and that it is often beneficial to have a support person during this time. Your loved one can take notes, ask questions, and provide valuable emotional support during this difficult time. While each state has its Ovid-19 guidelines, this person may provide valuable support in your quest for legal advice.
(For more articles like this, click here: What to Expect at a Consultation With a Family Law Attorney?)